July 7, 2023
Hailstorm Hazy IPA Release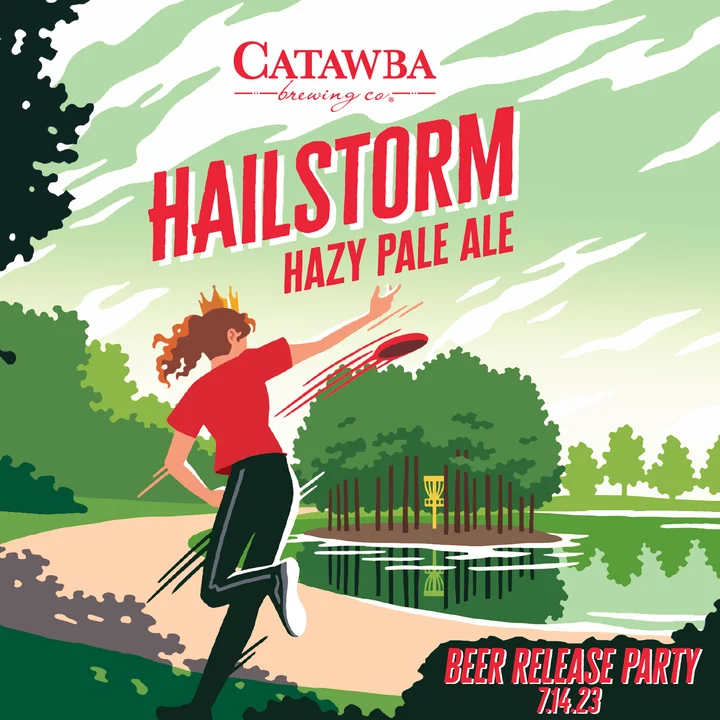 Catawba Brewing Company and Pro Disc Golfer Hailey King Join Forces for a Special Beer Release Celebration
Catawba Brewing Company is thrilled to announce an exciting collaboration with professional women's disc golfer, Hailey King, for the release of a special brew, Hailstorm Hazy Pale Ale.
Set to take place on Friday, July 14th at Catawba Brewing Company's taproom in Charlotte, NC, this collaboration celebrates the shared values of passion, craftsmanship, and community that both Catawba and Hailey King embody in the craft beer, outdoor and disc golf communities.
Hailey King, known for her exceptional skills and dedication to the sport, has quickly risen to become one of the leading figures in professional disc golf. Her relentless drive, competitive spirit, love of the outdoors and commitment to excellence resonate deeply with the core values of Catawba.
"Disc Golf is an amazing sport. It doubles as therapy as well as getting that competitive edge out there. It's a walk in the woods and competitive time with your friends… it's everything you could dream of," says Hailey King. "I'm really excited to spread the word of Catawba and to spread the word of disc golf, grow our communities together and just share love and peace."
The beer release event will showcase a unique brew crafted in partnership with Hailey King or "Hailstorm Hailey", capturing the essence of her dynamic personality and love for the sport. This collaborative beer will be available initially on draft at all Catawba taproom locations on Friday July 14 with a release party in Charlotte, offering fans of both beer and disc golf a truly special experience.
"We are honored to partner with Hailey King for this collaborative beer release," said Jared Turbyfill, Brand and Product Line Manager. "Hailey's dedication and talent in disc golf mirror our own commitment to producing exceptional craft beer. This partnership is a celebration of our shared values and a way to bring our communities together."
Attendees of the event can expect an engaging atmosphere with opportunities to meet Hailey King, engage in disc golf activities, and learn more about the process behind the collaboration beer. In addition, Catawba will host a disc golf putting challenge where participants can win exclusive merchandise and prizes.
"We are extremely excited to release a beer in collaboration with Hailey King! Charlotte has an incredible disc golf community and we are thrilled to get the opportunity to be a part of it," says Mary Ann Anstine, Taproom General Manager.
The Catawba Brewing Company and Hailey King collaboration beer release event will take place on July 14th at the Charlotte taproom located at 933 Louise Ave #105. The event will be open to the public and feature live music by local artist Neal Carter from 6-9 pm, Carolina BBQ food truck from 5-9pm as well as prize giveaways and vendor booths throughout the evening.
About Catawba Brewing Company:
Catawba Brewing Company is a craft brewery based in North Carolina known for its dedication to producing high-quality and innovative beers. With a commitment to community, craftsmanship, creativity, and the outdoors, Catawba Brewing Company continues to delight beer enthusiasts with its wide range of brews including its flagships: White Zombie White Ale, Endless Trail Pilsner, and Carolina Fog Hazy IPA.
About Hailey King:
Hailey King is a professional women's disc golfer renowned for her exceptional skills, dedication, and positive impact on the sport. She has 26 career wins so far and is currently the 11th ranked player on tour. She is the reigning US Women's Disc Golf Champion and won the Disc Golf Pro Tour Championship in 2020. With numerous accolades and a vibrant presence in the disc golf community, Hailey continues to inspire players and fans worldwide.