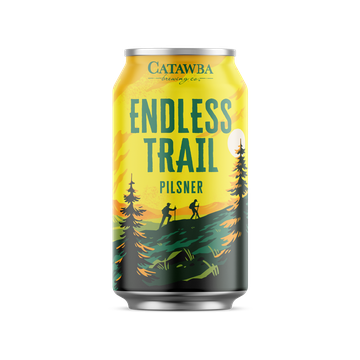 Hops
Cashmere, El Dorado, and Citra
Malts
Flaked Oats and Wheat
The crisp, clean, and crushable Endless Trail Pilsner is here! We started with an easy-drinking pilsner recipe and added a touch of intrigue with a mild noble hop addition late in fermentation. The result is an approachable, yet complex and flavorful go-to brew suitable for any occasion. Pack it in and pack it out if you enjoy hiking Life's Endless Trail.

Join us in our Tree Planting Initiative!
At Catawba, we are committed to environmentalism and great beer. In honor of Earth Day 2023, we are kicking off our Tree Planting Initiative with Asheville GreenWorks. $1 of every pint and six pack of Endless Trail sold at all of our local taprooms will go to supporting Asheville Greenwork's Urban Forestry Initiative and their ambitious goal to plant 50,000 trees by 2040!